Lady Sas & Team heißen dich herzlich willkommen. Wir lieben Themen wie BDSM, Femdom, Keuschhaltung, Cuckolding, FLR und Sissyfication. Du auch? Dann viel Spaß hier. Auf unserer Website findest du über 150 Interviews mit Tops und Subs aus der ganzen Welt sowie hilfreiche Artikel.
Lady Sas & Team welcome you. We love topics like BDSM, femdom, chastity, cuckolding, FLR and sissyfication. Do you too? Then have fun here. On our website you will find over 150 interviews with tops and subs from all over the world as well as helpful articles.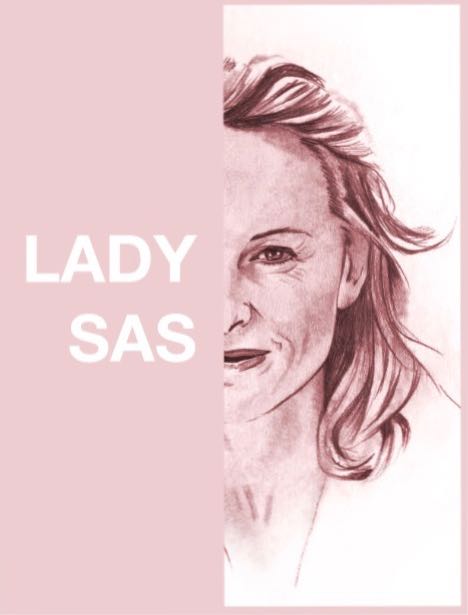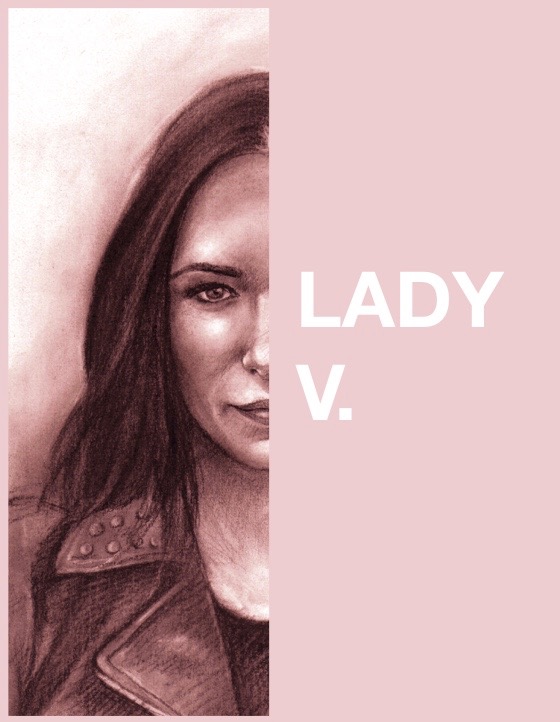 Lady Sas informiert und inspiriert. Seit 2013 zum Thema BDSM.
Wir sind ein Team von privaten Femdoms und Subs, die es sich zur Aufgabe gemacht haben, die BDSM-Kultur zu fördern, aufzuklären und Vorurteile abzubauen. Wir wollen Frauen und Männer dazu ermutigen, sich auf ihre dominante oder devote Seite einzulassen, ihre Rolle zu finden und ohne Schuldgefühle Spaß daran zu haben. Darüber hinaus wollen wir zeigen, dass BDSMler durchaus kultiviert und intelligent sein können und keine dummen Hau-draufs sind.
Lady Sas informs and inspires. Since 2013 on the subject of BDSM.
We are a team of private femdoms and subs who have made it our mission to promote, educate and break down prejudices about the BDSM culture. We want to encourage women and men to get involved with their dominant or submissive side, find their role and have fun with it without feeling guilty. In addition, we want to show that BDSMers can be quite cultured and intelligent and are not stupid beaters.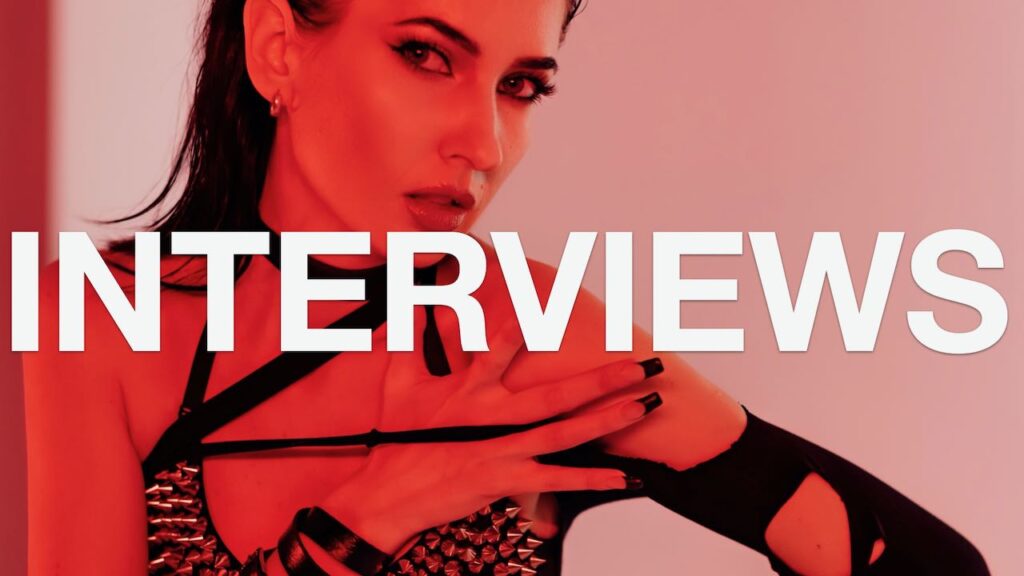 Wir haben für dich über 150 Interviews mit Dominas, privaten Femdoms, männlichen und weiblichen Subs sowie TVs und Sissys geführt. Wie denken Herrinnen? Was reizt Sklavinnen am BDSM? Wie ist das Selbstverständnis einer transsexuellen Domina? Unsere Neugierde ist grenzenlos. In unseren regelmäßigen Interviews beleuchten wir immer wieder neue Aspekte. Dabei sind wir gespannt auf Interviewpartner aus der ganzen Welt. Von A bis Z, von Antwerpen bis Zürich. Schwerpunkt bei den Artikel ist – bei aller Internationalität – Deutschland und die Schweiz.
We have conducted over 150 interviews for you with Dominas, private Femdoms, male and female subs as well as TVs and sissies. What do Mistresses think? What attracts female slaves to BDSM? What is the self-image of a transsexual Dominatrix? Our curiosity is boundless. In our regular interviews we always shed light on new aspects. In doing so, we are eager to meet interview partners from all over the world. From A to Z, from Antwerp to Zurich. The main focus of the articles – despite all internationality – is Germany and Switzerland.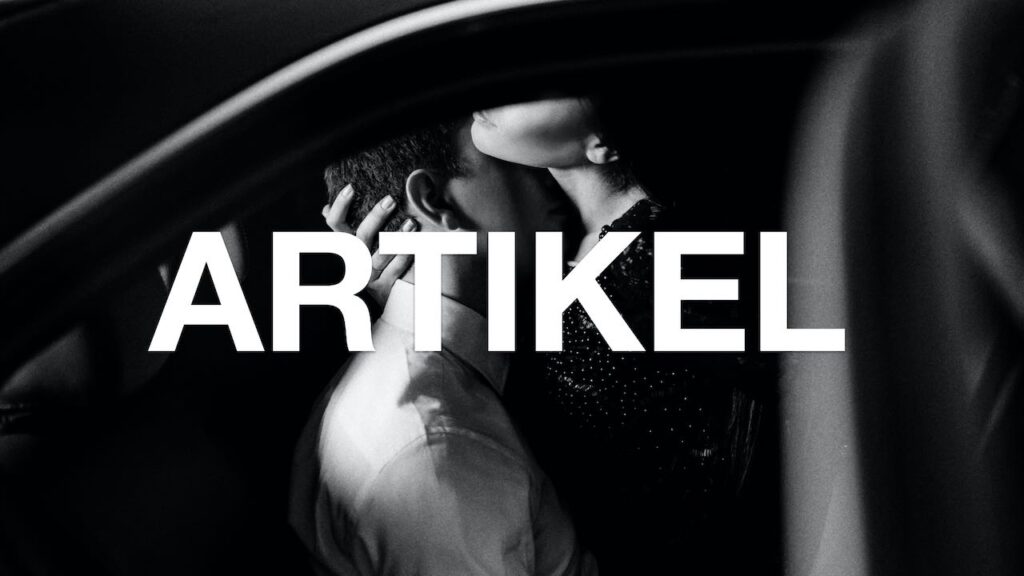 Wer sich mit den Themen rund um BDSM beschäftigt, hat viele Fragen. Wie funktioniert Bondage? Worauf muss ich bei Knoten achten? Und was muss ich tun, damit eine Session aufregend, aber auch sicher abläuft? Wir wollen dir Antworten geben. Lass dich informieren und inspirieren. Entdecke Artikel über die Themen BDSM, Keuschhaltung, Sissyfication, Cuckolding, FLR & Beziehung, Paysex, Financial Domination, Klinik und mehr. Wir bauen unser Artikelangebot ständig aus. Es lohnt sich also regelmäßig vorbeizuschauen.
Anyone who deals with the topics around BDSM has many questions. How does bondage work? What do I have to watch out for in knots? And what do I have to do so that a session is exciting, but also safe? We want to give you answers. Let us inform and inspire you. Discover articles about BDSM, chastity, sissyfication, cuckolding, FLR & relationship, paysex, financial domination, clinic and more. We are constantly expanding our range of articles. So it's worth checking back regularly.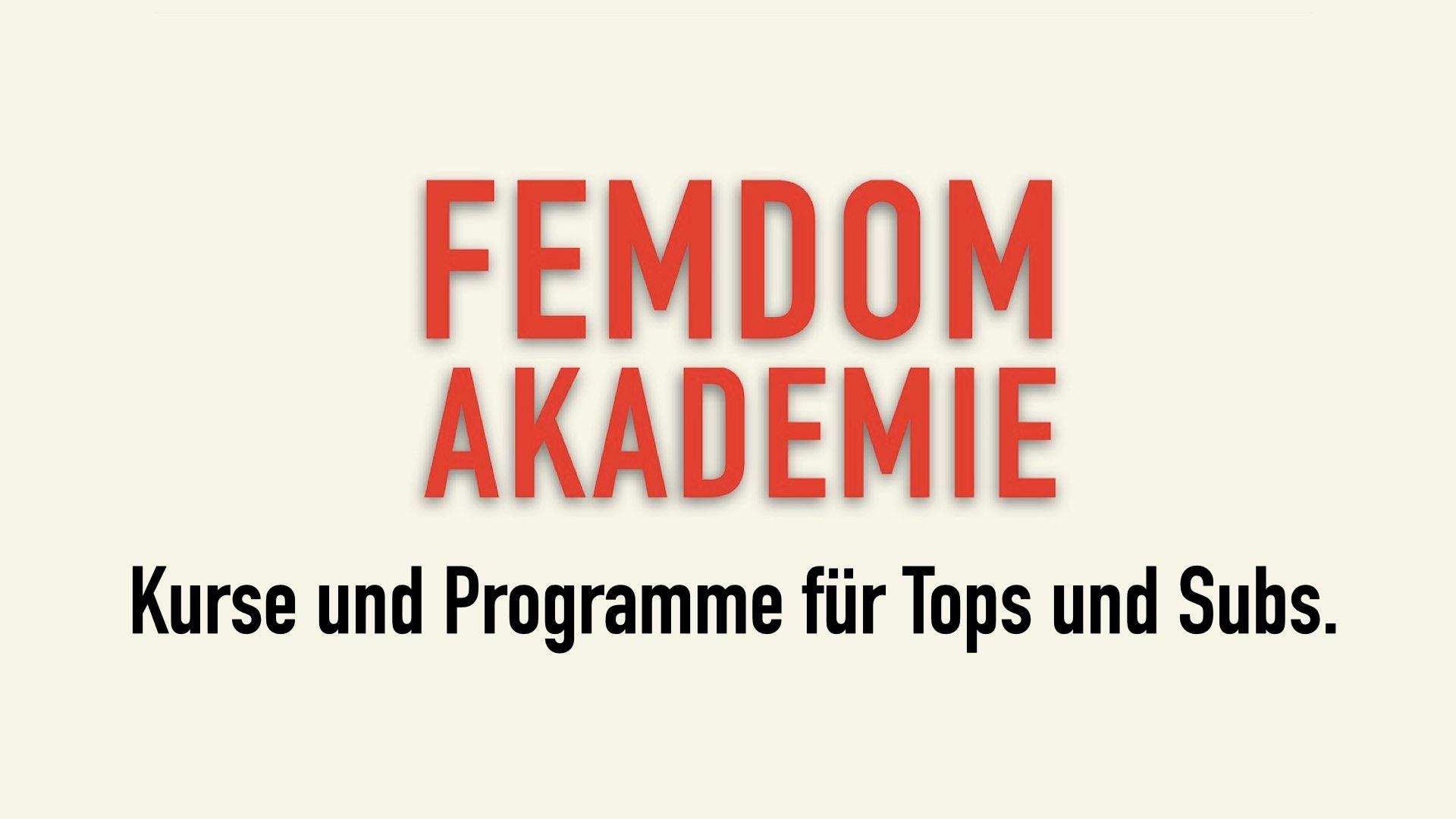 Die Femdom Akademie von Lady Sas bietet Kurse und Programme, mit denen sich Tops und Subs weiterentwickeln können. Wie schreibt man eine Herrin erfolgreich an? Wie steigert man seine Chancen eine private Femdom zu finden? Wie wird man das Online-Profil zum Magneten, der Herrinnen anzieht? Die Femdom Akademie bietet Antworten. Zu diesem und zu anderen Themen, die Tops und Subs brennend interessieren.
Lady Sas' Femdom Academy offers courses and programs to help tops and subs develop. How to write to a Mistress successfully? How to increase your chances to find a private Femdom? How to make your online profile a magnet that attracts mistresses? The Femdom Academy offers answers. To this and other topics that tops and subs are burning interest.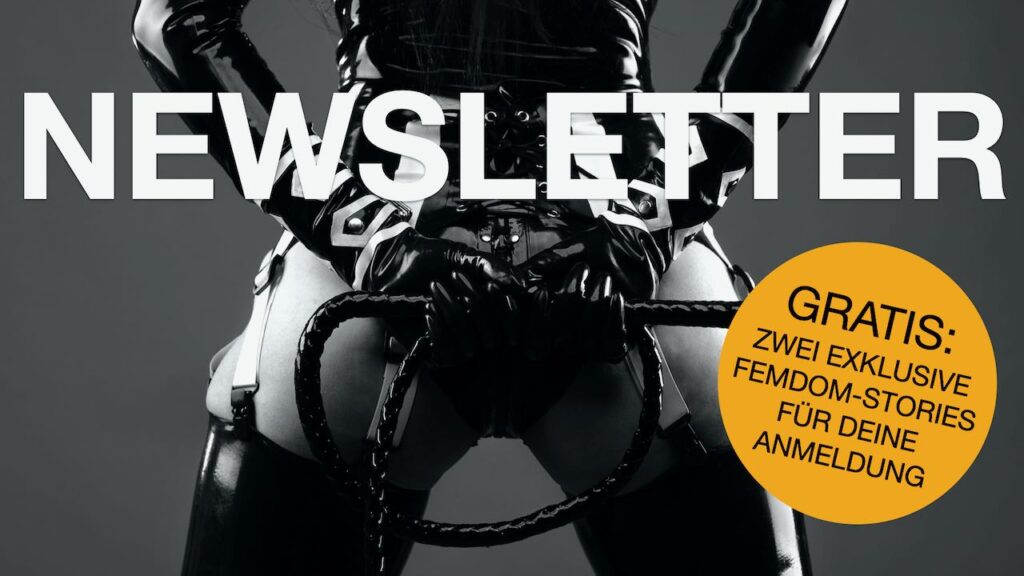 Aktuelle News bequem im Postfach.
Abonniere unseren Newsletter, wenn du immer als Erster Bescheid wissen möchtest, was es Neues gibt. Im Newsletter bekommst du exklusive Informationen und kannst immer wieder Vorteile nutzen. Bleibe so mit uns in Kontakt und lass dir alle News bequem ins Postfach schicken. Es ist kostenlos, also: einfach anmelden.
Als Dankeschön erhältst du nach deiner Anmeldung zwei exklusive Femdom-Erlebniserzählungen von Lady Sas und Lady V, die es nicht als Buch zu kaufen gibt.
The latest news conveniently in your mailbox.
Subscribe to our newsletter if you want to be the first to know what's new. In the newsletter you will receive exclusive information and can always take advantage of benefits. Stay in touch with us and get all the news conveniently sent to your inbox. It's free and also written in English, so just sign up.
As a thank you you will receive after your registration two exclusive femdom experience stories from Lady Sas and Lady V, which are not available as a book.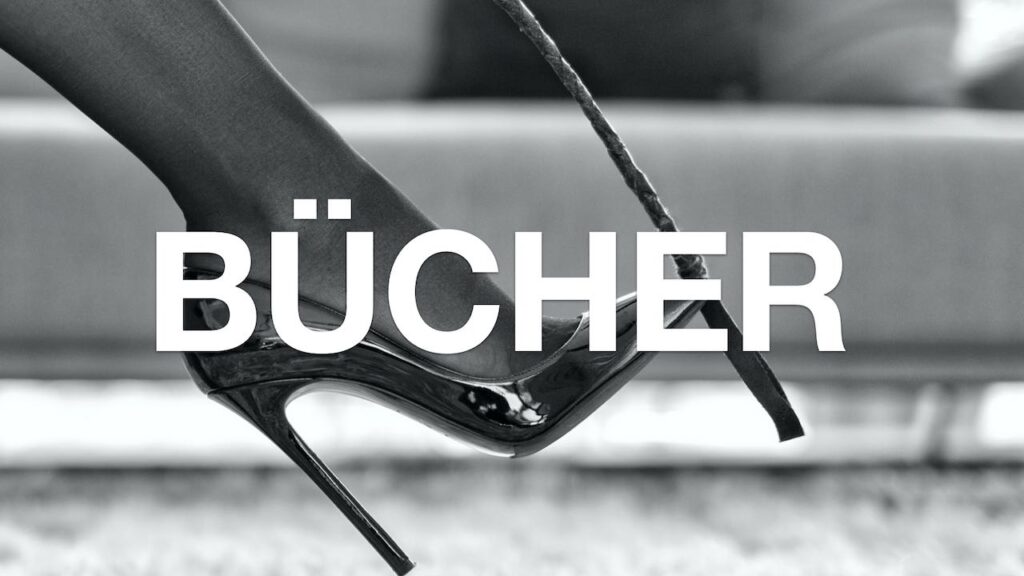 Ob hilfreicher Ratgeber oder heiße Erlebniserzählung – hier findest du eine umfangreiche Auswahl an BDSM-Büchern. Unsere Themen: Femdom, Maledom, Keuschhaltung, Erziehung, Cuckolding, Klinik, Fetisch und Sissyfication.
Whether you're looking for helpful advice or a hot tale of experience, you'll find an extensive selection of BDSM books here. Our topics: Femdom, Maledom, Chastity, Education, Cuckolding, Clinic, Fetish and Sissyfication.
lady-sas.com ist mehr als Lady Sas. Wir sind ein Team von privaten Femdoms und Subs, die es sich zur Aufgabe gemacht haben, die BDSM-Kultur zu fördern, aufzuklären und Vorurteile abzubauen. Wir wollen informieren und inspirieren.

Auf dieser Seite findest du viele Möglichkeiten, dich über Themen wie Femdom, BDSM, Keuschhaltung, FLR und Cuckolding zu informieren. Zum Beispiel stehen dir kostenlos über 150 spannenden Interviews zur Verfügung, die wir mir Profi-Dominas, privaten Herrinnen, Subs und Sklaven aus der ganzen Welt geführt haben. Den Schwerpunkt bilden dabei Deutschland, Österreich und die Schweiz. Es gibt aber auch Interviews mit Dominas aus den USA, Dubai, UK oder Polen, um nur einige Länder zu nennen. Außerdem findest du hier auch Interviews in Englisch.
Darüber hinaus findest du hier informative Artikel zu den beschriebenen Themen, einen Femdom-Blog sowie zahlreiche Hinweise auf Bücher, die informieren und inspirieren.

Das Angebot von Lady Sas gibt es bereits seit 2013. Zunächst hat Lady Sas alles selbst gemacht und eine Blogspot-Website von Google genutzt. Der Blog wurde schnell überaus populär und über 2,7 Millionen mal besucht. Mit der Zeit haben sich weitere Femdoms sowie Subs engagiert. Lady V, die der jungen Generation Femdoms angehört, gab schließlich den Impuls dazu, die Website ganz neu aufzusetzen. Das Ergebnis siehts du hier. Die Gestaltung ist jetzt großzügiger und ansprechender. Und die Texte sind besser zu lesen. Noch ist nicht alles perfekt – aber wir arbeiten daran. Stay tuned.
lady-sas.com is more than Lady Sas. We are a team of private femdoms and subs who have made it our mission to promote, educate and break down prejudices about BDSM culture. We want to inform and inspire.

On this site you will find many opportunities to learn about topics such as femdom, BDSM, chastity, FLR and cuckolding. For example, there are over 150 exciting interviews available for free, which we have conducted with professional dominas, private mistresses, subs and slaves from all over the world. The focus is on Germany, Austria and Switzerland. But there are also interviews with Dominas from the USA, Dubai, UK or Poland, just to name a few countries. You can also find interviews in English here.
In addition, you will find informative articles on the topics described, a femdom blog and numerous references to books that inform and inspire.

The Lady Sas offer has been around since 2013. Initially, Lady Sas did everything itself and used a blogspot website from Google. The blog quickly became extremely popular and was visited over 2.7 million times. Over time, other femdoms as well as subs got involved. Lady V, who belongs to the young generation of femdoms, finally gave the impulse to completely rebuild the website. You can see the result here. The design is now more generous and appealing. And the texts are easier to read. Not everything is perfect yet – but we are working on it. Stay tuned.