As an introduction here's a statement from her: "I am a true British Mistress and specialise in true english discipline (corporal punishment) to selected slaves willing to submit to my traditional methods." In fact, Mistress Danica is British, but lives in Germany since many years. She enjoys playing with slaves in both countries. No doubt: This interview is going to be very interesting.
Lady Sas: Dear Danica, you live in the UK and also in the South of Germany. Can you give us some information about your background? Why do you live in two countries?
Mistress Danica: I am mainly resident in Germany but I return to England, my home country, every couple of months. I grew up in the UK but have been living in Germany for a number of years and now class it as home.
Lady Sas: Do you offer your dominant services only in Germany or also in the UK?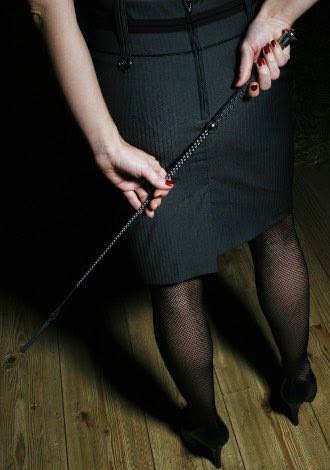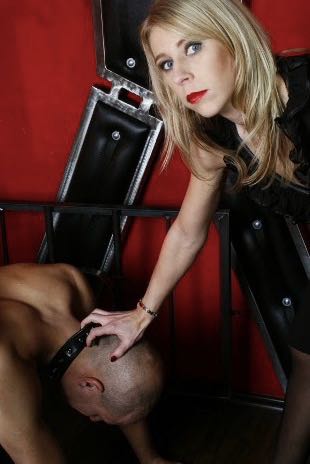 Interview with Mistress Danica
Mistress Danica: I offer my services in both countries but I mainly do sessions in the UK, which are usually school and ageplay-related.
Lady Sas: Is BDSM a lifestyle for you that you also enjoy in your private life or is it a kind of special hobby which has nothing to do with your relationship.
Mistress Danica: BDSM plays a role in any relationship I have. Whilst I cannot imagine being in a truly vanilla relationship, I could imagine a relationship on a TPE (Total Power Exchange) basis.
Lady Sas: How did you come in contact with BDSM? What's so fascinating about it?
Mistress Danica: My interest in BDSM started with an absolute fascination for spanking. Ever since I was a small child, seeing a spanking in a mainstream movie on TV, such as David Copperfield or Tom Sawyer, gave me butterflies in my stomach and I could not stop thinking about it. I had a traditional English, conservative upbringing and I thought that this fascination was "unhealthy". It was only as I grew older that I really acted on this interest and found, once the internet became widely available, that I was not the only person with this fetish. From there my interest and involvement blossomed and expanded into other areas of BDSM. I learnt some great skills thanks to some brilliant coaching from some wonderful mistress friends I met on the scene in the UK.
Lady Sas: Is there a difference between German and English slaves?
Mistress Danica: Funnily enough – yes! I find that English slaves are better "Gentlemen" before they even receive any training. They all know the basics, such as letting the lady sit down first, holding the door open etc. However, German slaves generally need more training – even some basics. For example, one German Slave, who had the pleasure of taking me to a party, even texted me to say he was outside waiting in the car, rather than coming to the house and ringing the doorbell to escort me to the car! Also, in my experience, German slaves are generally more demanding and tend to top-from-the-bottom more than UK slaves – but of course would never admit to it. (laughs)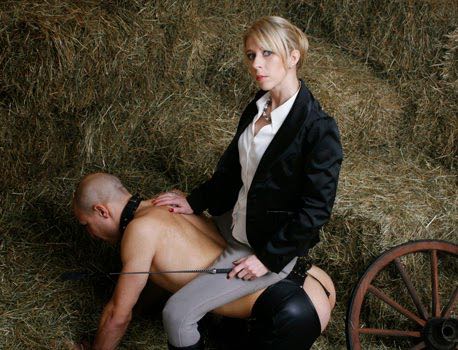 About the BDSM-scene in the UK.
Lady Sas: How would you describe the BDSM-scene in the UK?
Mistress Danica: There is a good BDSM scene and some brilliant parties and events in the UK but these are mainly based in London. The events I have visited elsewhere in the UK were not as good, infact rather disappointing.
Lady Sas: It seems to me that there are amazingly many Mistresses located in London.
Mistress Danica: Yes, there are numerous professional Dominas in London but there are also many others scattered around the UK. But yes, the heart of the BDSM scene is in London and that's where the major parties, such as Pedestal and Torture Garden take place.
Lady Sas: When a German talks to you – how does the language sound in your ears?
Mistress Danica: It just sounds normal to me because I am now fluent in German. But when I first came to Germany, I thought the language sounded rather harsh.
Lady Sas: Is there a thing about the Germans that is funny in your point of view?
Mistress Danica: A couple of things spring to mind here – the classic wearing socks with sandals/Birkenstocks and wearing a scarf when you have a head cold. Also some Germans are "jobsworths" (Klugscheißer) and like to point out that you have to walk on the right hand side of the footpath or that you drove into the petrol station from the wrong side – those petty things just make me laugh.
Lady Sas: You are specialised in corporal punishment and role-play. Would you say that this is typical for a British Mistress?
Mistress Danica: No, this is not necessarily typical of a British mistress. This is a separate fetish and there is less of a sexual nature to this type of session. Most clients like to dress in school uniform and have real lessons, not just punishment. The roleplay is mainly based on ageplay – naughty 15 year old schoolboy for example and generally does not have a sexual nature. Those who specialise in this area generally tend to class themselves as disciplinarians rather than as mistresses.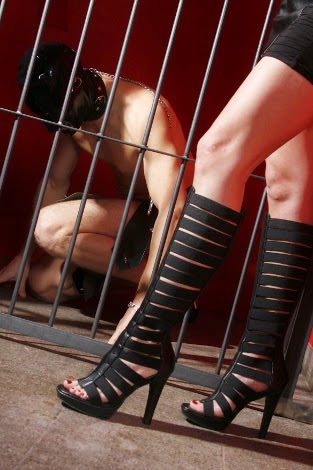 About Englische Erziehung.
Lady Sas: When you talk about corporal punishment in German you use the expression "Englische Erziehung", english discipline. How is it called in English? I heard the expression "German", which would be just the other way around.
Mistress Danica: I have never heard the expression "German". For me, "Englische Erziehung" refers to the cane, which was used in most schools in the UK until the early 1980s and until the early 1990s in some private schools.
Lady Sas: You are hetero, but also willing to play with slavegirls. How does this fit together?
Mistress Danica: I have played with girls in the past and find it equally as pleasurable as playing with men. I am happy to deal with anyone who requires discipline, regardless of their sex.
Lady Sas: How do you relax? Do you have hobbies you enjoy?
Mistress Danica: I love horse-riding, fitness, snowboarding and travelling. I'm an active girl!
ady Sas: Please tell us a bit more about your plans for the future.
Mistress Danica: I will remain in Germany for the foreseeable future and continue to make regular trips to England. I intend to continue having a lot of fun and correcting naughty boys and girls in both countries ;o)
Lady Sas: That sounds wonderful! Thank you very much.
Want to enjoy the dominant services of Mistress Danica yourself? You can contact her via her profile in Sklavenzentrale. Nickname: "Mistress Danica" – In Germany it is not allowed to link to Sklavenzentrale (indexed). So you have to find out yourself.