Mistress Elis Euryale is an international French Dominatrix living in Hong Kong. This is not only a great luck for the slaves of Hong Kong, but also for us. Because the most attractive Mistress took the time to answer some questions and give us an insight into her stunning, outstanding world. Learn more about the Queen of Hong Kong, Mistress Elis Euryale, who is not only a gorgeous Dominatrix, but also an extremely talented and successful Film Director and Producer.
Lady Sas: Dear Elis, please describe us how you became a dominatrix.
Mistress Elis Euryale: It is a surprising story, that led me from Europe, to Africa, to Asia. As unusual as it sounds, I have always known that I was into BDSM: as a teenager, I nurtured my passion for literature by having constantly a new book in my hands. I read many "classical" author on the topic of BDSM and eroticism, driven by an insatiable curiosity towards the richness of the human mind when it comes to interconnect sex and power. William Blake said that "The true method of knowledge is experiment" and I intuitively followed this lifestyle early – and I still do and love it! All discoveries have little value unless they are put into practice when the time comes – the sooner the better. In Paris and in Europe, before reaching 20 years old, I did not hesitate to experiment with both BDSM practices and relationships, spending a lot of my time meeting new people in the community, experimenting on myself, and trying to make sense of the mysteries of eroticism. I contemplated the idea of working as a professional Dominatrix at the time, but I felt like I wasn't ready.
A few years later, life led me to Central Africa (another passion of mine), where I started working on my first documentary. The filming part was an incredible experience, but the editing found me unprepared: how could I dedicate most of my time to my film? What professional activity would allow me to have that much free time, and still interest me enough to fully focus on it when needed? That's when I remembered professional domination, an idea that I had kept in my mind for a while back then. My first months as a pro Domme were in that sense a happy accident, even though I enjoyed the process a lot: I was working only a few days a month in a very intensive way, as a nomad (renting apartments here and there), trying to make as much as I could so I would work non-stop on my documentary until the next month, and so on. At the end, once the film was made, this lifestyle brought me so much pleasure that I kept working as a pro Domme, in a more sustainable way though! I found a place to host my BDSM sessions in Paris, and invested time and money to pursue my own initiation: from intimate relationships to impermanent relationships. I was very enthusiastic and eager to learn about the professional side of BDSM, and build a strong connection with my clients.
A few years later, it is another film project that led me to Asia, and Hong Kong in particular. I had started to learn Mandarin as a teenager, but life took (another) turn and I didn't pursue the study of this language. So when I had the opportunity to start a new project in China and Hong Kong, I didn't hesitate and left France – that I wanted to leave for a while. It was obvious to me back then that I would keep working as a Dominatrix, and the appeal of doing so in a new country was strong. So far I had enjoyed this activity in a nomad way, working in different countries for a few days or weeks, but settling in Hong Kong was more exciting. But it is a story for another day!
Interview with Mistress Elis Euryale, Hong Kong
Lady Sas: What excites you about BDSM and training slaves?
Mistress Elis Euryale: I am still trying to find out as well! There are so many aspects of BDSM and professional domination that I cherish. Most of all, I am passionate about the human mind. Learning about other people's kinks and fantasies, how they were potentially shaped into someone's life, but also how they can influence someone's life, will never cease to amaze me.
I was also always fascinated by the unique aesthetic created by the interconnection of medical devices and eroticism. Since a very young age, medical environments and medical instruments have aroused my curiosity, until I started collaborating with artists in order to make some of my fantasies come true: I commissioned and collected a few customized braces and prosthetics. They are works of art that beautifully mix the coldness and strength of technology with the beauty and vulnerability of human bodies and emotions.
Last but not least, there can be a spiritual dimension to BDSM, and as a passionate psychonaut, experimenting on altered states of consciousness, this aspect is very exciting to me. The subspace (transelike state that submissives can experience) – and the domspace (applied to the dominant one) – still have a lot to teach us about how powerful our minds are. The ability for us to create (or indulge in) kinks and erotic obsessions is endless, and I love that as a pro Domme, my professional activity is a huge playground for exploring my own fantasies, and my slave's as well. The creativity that I can express matters a lot to me, as it is an important part of my life, and being a pro Domme allows me to feel completely free in this regard. Boredom is what I fear the most, and my activity keeps me far from this concern!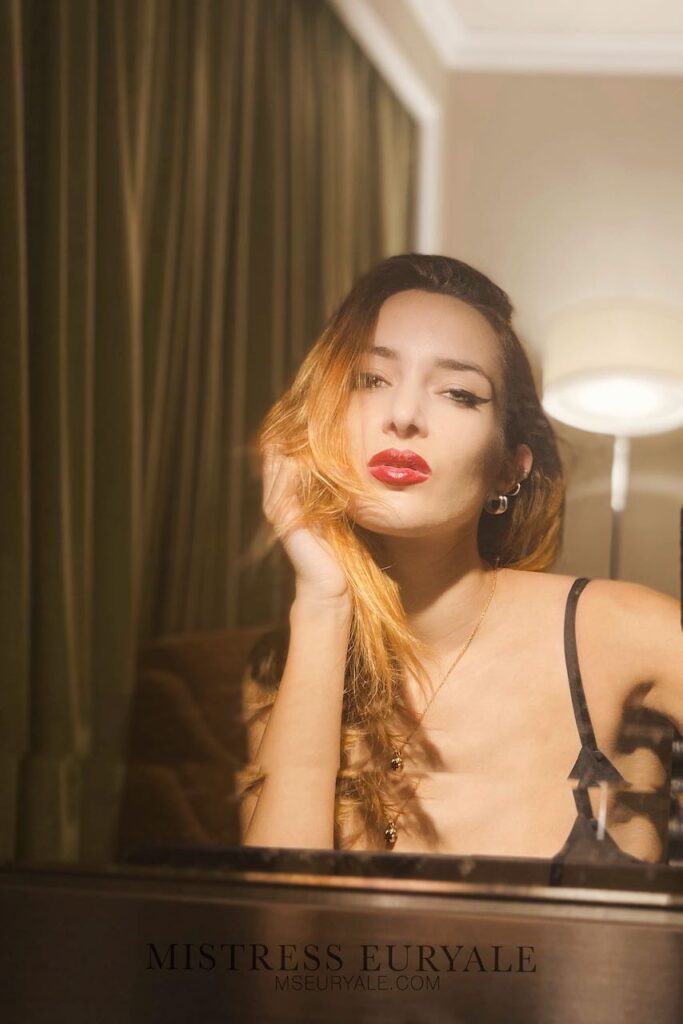 "I have noticed cultural specificities in Europe and in Asia, that have been revealed in my BDSM sessions."
Lady Sas: You train slaves in Europe and Asia. Are there differences between phantasies and sessions in Europe and Asia?
Mistress Elis Euryale: I strongly believe that our cultural background plays a part in how we envision sexuality and kinks, how it penetrates our brains, that are way more malleable than we think. BDSM can take many forms and have many effects on us, including a cathartic effect. I have noticed cultural specificities in Europe and in Asia, that have been revealed in my BDSM sessions. It is fascinating how our cultural heritage (individual or societal) shapes our sexuality, even though I believe that we are far from being enslaved to these preferences, and can anytime intervene ourselves to re-shape and enrich our own fantasies.
For example, in France I got very few requests of what I call "corporate role-play": a strict female boss threatening to fire or blackmailing her employee, the situation giving many opportunities to tease, punish, control and scare someone. However in Hong Kong, a city where people are subject to a huge pressure to fill expectations from professional and familial environments, and pushed to reach financial goals to provide to elders before themselves, this request has been way more common.
Another example of cultural specificity I have met in Hong Kong: verbal humiliation written on the body of the submissive partner. It is possible there could be a degree of tie to the Cultural Revolution which occurred in Communist China from 1966 to 1976, where boards around the necks and insulting posters were used by the Red Guards to humiliate and torture the class enemies. Such practices of punishment can be dated back to the judicial system of Ancient China. I found this culture of shame through writing way more present in Asia than in most western societies.
Lady Sas: Your sessions in Hong Kong take place in Villa Vermilion. Could you describe this place a bit for us, please?
Mistress Elis Euryale: Villa Vermilion is a huge playground that includes a dungeon, a clinic and a garden with a pool (very useful for drowning those who don't behave – I love adding a water element to my favorite tortures). I opened it in 2021 in Hong Kong, motivated to have a bigger space than the former one, a dungeon in the center of Hong Kong Island. Villa Vermilion is a more complete space, fully equipped, where I have also built my production studio, a more recent activity leading me to produce and release new BDSM videos every week.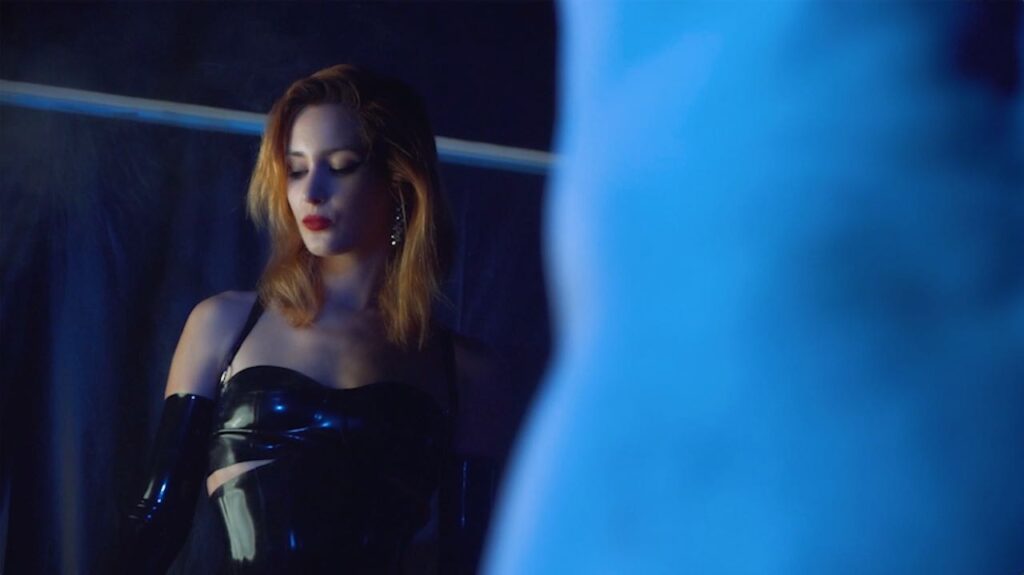 Mistress Elis Euryale about extreme and unusual practices.
Lady Sas: You penetrated a cock with the heel of your 12 cm Louboutin So Kate shoe. What a beautiful idea! Do you particularly enjoy extreme and unusual practices?
Mistress Elis Euryale: My videos of CBT (Cock and Ball Torture) are indeed very popular, including my high heel sounding my slave's urethra. I enjoy extreme and unusual practices, because fear and pain can teach us a lot about ourselves – exploring our limits and potentially transgressing them to grow and learn from them. I used to do a lot of sport and I remember enjoying the rush of endorphin and adrenalin that my brain could produce when pushing my body's limits. The body, mine or others', is a vector of fantasies of all sorts, to highlight how power play can intervene in a relationship dynamic. And all this can interconnect beautifully with my medical fetish, a practice where one takes care – or not – of the body and mind of their partner, enforcing full domination in a – real or imaginary – clinical and controlled environment.
Lady Sas: As a European, are you an exotic in Hong Kong and therefore particularly sought after and attractive? How do men in Hong Kong see you?
Mistress Elis Euryale: Yes, I have been observing how racial differences (and sometimes traumas related to it) can also feed our fantasies. Diving deep into your question, I am sometimes considered as attractive mostly because of the perceived ideas associated with my nationality, including the cultural (French) background and the unique appearance of a white woman in an Asian country.
It is a reciprocal effect though and I have focused mainly on the other side of the mirror: I am sometimes contacted for raceplay sessions, where the submissive longs to be humiliated based on their racial appearance (and background), fantasizing about the idea to be inferior because of their non-white identity. I have been very interested in this topic since I moved to Hong Kong, realizing how more popular this practice is in non-Western countries. Raceplay is deeper than just a power play based on the external look of a person, it is a practice based on a supposed racial hierarchy born from our modern history (unfortunately sometimes not studied enough!), mostly created and built on the ground of the economical power of a country or culture. It is fascinating to notice how macro economics plays an important (and absurd) role in the way we value and appreciate human life – leading as a consequence to racist stereotypes that we believe in, consciously or not. I started writing a full article about this topic, especially about the Asian stereotypes, article that I hope I will consider finished one day if my perfectionism allows me do so.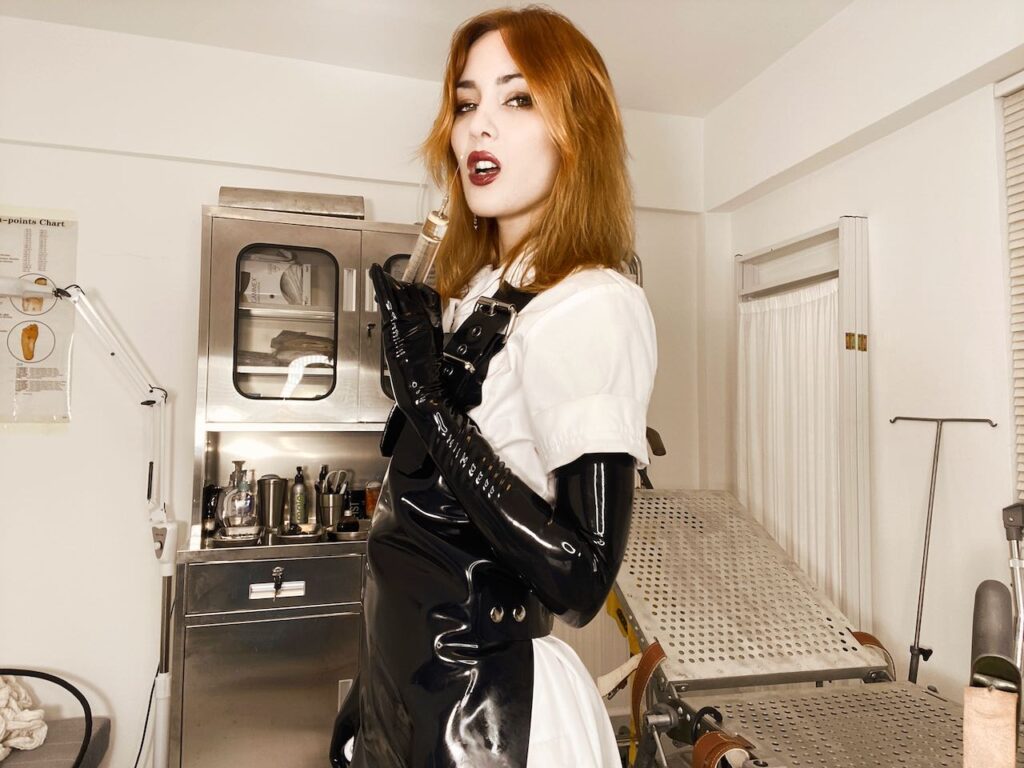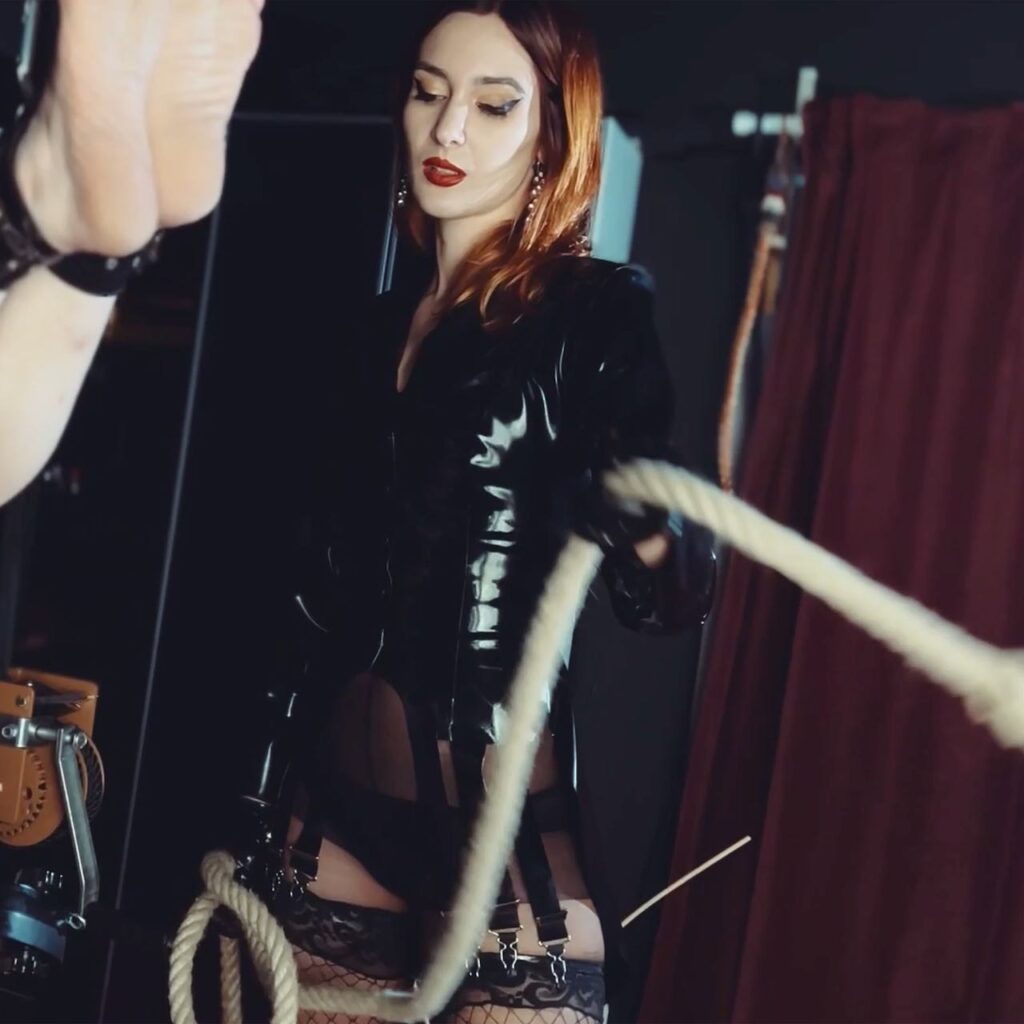 Is there a Femdom scene in Hong Kong?
Lady Sas: Is there a Femdom scene in Hong Kong? How does society deal with the topic of BDSM?
Mistress Elis Euryale: Yes there is a BDSM and a femdom scenes in Hong Kong, organizing regular Munches and events of all sorts. Unfortunately events can never be too "public", as there is often a misunderstanding about the nature of the BDSM and the fetish scenes, sometimes seen as part of sexwork (a legal activity here in Hong Kong), which is mistakingly associated (by the authorities) with sex trafficking. There is sometimes a confusion about these notions, and it led to the disappearance of some BDSM spaces and events in the past. However the scene is still active, even though less vocal than in Europe, because of the issues I mentioned.
Some westerners think wrongly that because they are not aware of the scene, the scene doesn't exist, but there is a significant part of the BDSM scene in Hong Kong that is run by locals, in Cantonese language, and therefore a connection with the local culture is necessary to enjoy it.
I could talk for hours about this topic, because it's not as simple as it seems. The authorities might make a confusion about the nature of the BDSM scene, but overall I have appreciated deeply the acceptance of my professional activity by many Hong Kong people, more than in France for example. The French culture has a huge problem with sexwork (France has applied the Nordic model from 1999, criminalizing the purchase of sexual services) and being a sexworker exposes us not only to contempt or discriminations, but also to violence of all sorts, which is not the case in Hong Kong. My life choices are way more respected here, and it is a real relief to live in a country where I feel accepted and respected.
Lady Sas: What are your plans for the future?
Mistress Elis Euryale: Thousands projects cross my mind every minute, but at the moment I want to focus on my film production. My femdom video production is still up and running, and I am excited about the possibilities on the table at the moment: I focus on my current favorite kinks and fetishes, such as human astray, medical fetish, cock and ball torture, extreme domination, etc. On the side I keep hosting sessions at Villa Vermilion, focusing on both psychological and physical aspects of BDSM – as in my videos I usually highlight the aesthetic aspect of physical pain, that I found visually fascinating.
Simultaneously, as I said earlier, I deeply love to indulge in the exploration of altered states of consciousness. I am currently working on the idea of connecting these two passions of mine in one unique project, summoning both the psychonaut and the dominatrix in me.
My horizon keeps widening, and I am lucky enough to have very supportive partners and friends around who encourage me every day to pursue my passions. As Anais Nin said perfectly, "I disregard the proportions, the measures, the tempo of the ordinary world. I want ecstasy. I will not adjust myself to the world. I am adjusted to myself."
Lady Sas: Thank you very much.
By the way: The mistress shows extremely exciting and arousing videos on her website. Take a look.