Warsaw Prison is the latest BDSM-project by Lady Daria from Warsaw. In this interview Lady Daria takes the time to explain in detail what Warsaw Prison is all about. After the interview you find the first interview I had the pleasure to arrange with her some years ago. Enjoy!


Lady Sas: Dear Daria, congratulations, you have opened Warsaw Prison. Can you tell us what it is all about?
Lady Daria: Thank you. Warsaw Prison was an idea, which was from some time in my head. I love the roles associated with interrogation. A great pleasure for me is to jail people, break and torture them. I am very good at it and my arrived guests can feel it and see it. They know it is real and it is serious. At the end it is a prison.
Lady Sas: What makes Warsaw Prison special and unique?
Lady Daria: I think few things. First – an idea. Warsaw Prison was deeply thought out. It is specific proposal for people to whom imprisonment is exciting. They have to fulfill in it. All details are written on my website so my guests know exactly what they should expect. This is Warsaw Prision advantage. My team is professional. From logistic site everything must be very good.
My guest is picked up from airport by my driver, taken to the studio and after session taken back to the airport. During session in a proper time meal is served. I am taking into account food preferences such as vegetarianism. Studio is opened also for people with some health problems like diabetes. Giving medicaments to my prisoner after receiving the guidance from him is part of my responsibility and I fully accept it. I don't want to refuse to someone due to health problems. I also have in my cells an emergency button. My prisoner must feel safe. Another difference in my Warsaw Prison is a fact that I organize only long time sessions. To fulfill concept time is essential. Few hours session is not enough.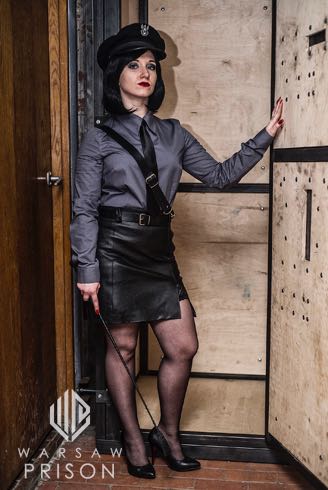 Warden Daria in Warsaw Prison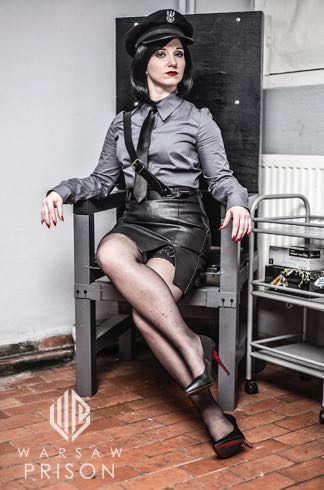 Lady Daria about Warsaw Prison: an important part is the mind
In Warsaw Prison we are not doing only BDSM. For us an important part is mind. We give orders, tasks which many people can ask:- WHY?- it is nothing to do with BDSM, but those tasks affect mind, kills ego and routine. Prisoner must be mentally broken, uncertain, wick. He must become OUR. We put a great emphasis on the psychological approach. Not every studio does it. For me the most important aspect of BDSM is what is going on in our minds. I think brain is the place when everything has the beginning. And also human.
My crew – three fantastic girls. Like me they feel good in imprisonment environment. They love it. For them BDSM is an important part of their lives. They have many years of experience . They have seen a lot, done a lot and still take pleasure from BDSM. If they have an opportunity to break someone, torture this is what give them satisfaction.
Many people support me. My driver, my carpenter, photographers. They are with me. I can count on them. That is why everything looks good.
Being professional is my motto. My job and my studio are my whole life, my passion, my everything. I have few targets for the future. I want to develop and expand Warsaw Prison and because I am stubborn you can expect I will do it. I want WP bigger, with more excitements.
Lady Sas: Where is the difference between Warsaw Prison and your Lady Daria BDSM Studio?
Lady Daria: WP and Studio is based in the same place. This is the same building. Sessions are done in the industrial studio. We've got also washroom. Amethyst studio is not a part of the WP and is separated from it.
I have to explain differences between Warsaw Prison and my Lady Daria Studio Domination.
1. www.ladydaria.eu – my website. Diverse offer. Sessions for beginners, regular sessions (1h, 2h, 4h and so on till 11h), all day session and intense slave training with more than one Dom Lady.
2. www.warsawprison.com – Warsaw Prison website
WP is a very specific project. We play within prison environment. We have interrogation, sentence announcement, imprisonment. Role paly is from the beginning discussed and accepted from both sides and it cannot be changed. It won't be sissy training or teacher role play. Our customer is prisoner. His day will be planned e.g.: time for meal, time for rest, time for hygiene or time to be chained. That is why Warsaw Prison is not a place for everyone. Definitely it won't be a nice adventure for someone who's got no experience and cannot accept strict rules.
Sessions within www.ladydaria.eu are more universal and flexible. Plenty of role play, multiplicity and possibilities. People with small or no experience (or different one) can find something suited for them.
Another difference between Warsaw Prison and Lady Daria Studio Dom is time limit. Within Warsaw Prison project I accept only minimum 24h session-day without accommodation. With short time limit I cannot accomplish tasks such as: interrogation, sentence announcement, imprisonment, punishments. To do it well we need time.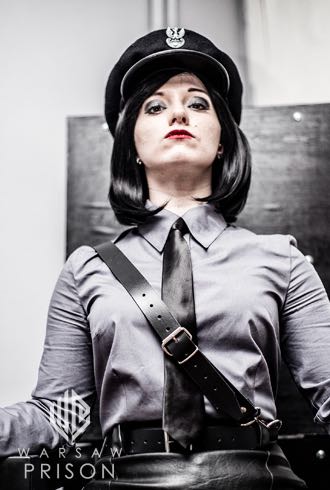 Warsaw Prison – a kind of OWK?
Lady Sas: Can one compare Warsaw Prison with OWK the famous Other World Kingdom? Where are the similarities, where are the differences.
Lady Daria: I fully understand that I will not avoid from such comparisons. Warsaw Prision is a place where we have a few Ladies, strict rules and aims. Everyone from outside can see those two things as a something pretty much similar. In reality are more differences then similarities.
Our Warsaw Prison is not big. It is based in home sized building. We have not many Ladies or working staff. We take only one prisoner and we are focused only of him. We don't have to share our attention with other ones. That means more pleasure, more emotions. He is our main target.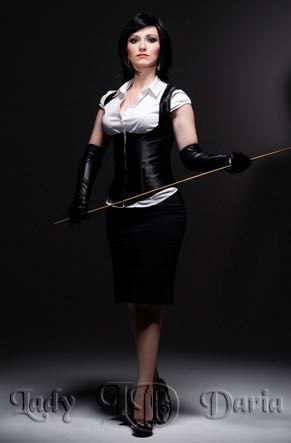 How it works at Warsaw Prison
I have to say I have never been in OWK. It is hard to talk about their organization and rules. I rather prefer to talk how it works in my Warsaw Prison: I am all the time present at all meetings with or without my Ladies Officers. This is my place and my environment. I am the person who's taking first contact with prisoner (e-mails, letters). I am taking responsibility for many aspects of this special relation. My prisoner must trust us. It has nothing to do with lack of confidence to my Ladies Officers. It is all about psychological comfort of my prisoner. Me and he has knowledge about the limits and agreements. He needs to feel safe. My Ladies Officers are not all the time 24h a day. We don't live together. During the night I am alone in the building.
I am far from the OWK legend. It would be nice if someone will have the same nice feelings about my WP as OWK, but I have ambitions to build my own ,,brand'' and my own history.
Lady Sas: Speaking of OWK. The Czech OWK-Ladies mostly had poor language skills. Most of the slaves from abroad didn't get any word. In my eyes this was an annoying point. How is the English of your Officers? Do they speak any other languages?
Lady Daria: I am with prisoners. In that case my language skills are important. I am not native speaker, but I speak English fluently also I've been learning German, but because I had no contact with this language for long time I forgot a lot, but I can understand many things.
My Ladies Officers speak English without problems. They are not as good as me, but no worries; any problem I can solve it.
Sometimes as a punishment for prisoner we use our native Polish language and he must understand what is all about, but it is very rare.
Lady Daria about Programs at Warsaw Prison
Lady Sas: Can you give us quick summary about the programs at Warsaw Prison?
Lady Daria: It is not an easy task to summarize 5 imprisonment programs, because every one has got different targets, purposes. One common goal is interaction on the mind and body. Of course every program represent different interaction methods after which prisoner response, react (sometimes in extreme way – breaking point). I understand perfectly that we have people who prefer body pleasure than mind. For them program 1 (BDSM activities) and 3 (heavy torture and CP) will be perfect fitted. These programs contain pain, fear, pressure. Prisoner loses his independence, confidence, dignity. He becomes our toy. Sometimes he must cross his limits. All aspects are very interesting. We watch him, his weaknesses. We talk what we can do more. We build a climate of fear. We are always looking for his breaking point. We know many methods how to achieve it. Body and mind tortures. Mixture of pain and pleasure. Proportions depends on prisoner. Some people prefer action on their minds. For them we have program 2 (breaking psyche), 4 (bondage, isolation) and 5 (drill and routine).
Their aim is to build extreme emotions such as anger, frustration, cry, breaking weaknesses. Our prisoners are surprised how non-invasive actions in the long period of time may affect their minds. This is for them the most exciting. For me balancing on the verge of breaking a prisoner, watching his pain and pushing him further and further over his limits. Games with our minds, wills, bodies gives me real pleasure. It can be very surprising for both sides (me and him). The end result as well.
Lady Sas: Why did you open Warsaw Prison? How did you come up with the idea?
Lady Daria: I had this idea in my head at least a year. I know what I like and what kind of role play I want to do. Interrogations, forced confessions, sentencing always excited me. So I thought it is the best to go this way and combine business with pleasure.
Lady Sas: Warsaw Prison is open for 2 or 3 months now. How are the first reactions?
Lady Daria: WP has been opened in 13th of December 2015. First reactions were and still are positive. Even I am surprised. I wasn't expect such publicity. From the beginning through my website and adverbs on Fetlife I received many congratulations from all over the world.
Lady Sas: On your website you write: ,,You will be thought positions, addressing me and my Officers and other proper behaviours''. I am curious: In what kind of position and in which way is an Officer addressed?
Lady Daria: This is about the position which I demand. For example the position of which must be taken when we enter (me and my Ladies Officers) to the cell. Also we teach how to march, turn left or right. In my prison must be order and strict rules. My prisoners must be perfect, meet my expectations. They have to know what to do, how and when. I hate to repeat myself. I require maximum effort and concentration. If the prisoner is inaccurate he must be punished. The same rules during the conversation. For my questions prisoner responds in complete sentences finishing Warden or Officer. Only this form I accept.
Solitary Box in Warsaw Prison
Lady Sas: What is the idea behind the Solitary Box?
Lady Daria: Of course isolation. Solitary box is a place where prisoner stays a long time. We would not achieve anything within 20/30 minutes time. It must be 4, 5 hours or longer. Inside solitary box there is nothing. It is dark, quiet place and because somebody else decide when prisoner will be released he lose track of time and control. Closing him into this place I am cutting off his contact with outside world. For some prisoners it is a time when they can take rest, to calm down, but for some of them their imagination starts working and it becomes a real nightmare. Inside this cell prisoner is alone with no support. This experience is quite scary. Of course just in case we have an emergency button, but it can be used only in an emergency situation. In that moment our response is immediate. If I want to give to someone a real mental pain during his isolation I switch on an annoying sound. It is very painful psychologically. This is the aim.
Lady Sas: You also offer water torture. What's about the safety? Isn't this dangerous?
Lady Daria: At the moment I cannot offer full water torture technics so prisoner take small risk and everything is under control. Only dunking in bucket or aiming the stream of the water while prisoner washes. We are in the process of building dedicated dunking device, but we need some time. This is special device and it needs to be done well. I have good and professional team of workers so I don't worry about the final result. More details soon on my website.
Lady Sas: How is the room temperature in Warsaw Prison? Do the prisoners have to freeze?
Lady Daria: The temperature in the Studio is suitable for prisoners for those the only clothing is penis cage. As you can see on the pictures room no 1 and 2 have large radiators. In the bathroom we have 3 radiators. Normal temp in studio is between 22/26 degrees Celsius. That means the temperature for our guests is suitable. One thing is important. During an intense playground heat can be a problem. We need to control it as well. Of course someone can sa it is ,,too comfy'', prisoner suppose to be broken, frozen. My answer is don't worry. Soon we open that kind of cell.
Lady Sas: In the prison there is a nice washroom. What is the concept behind it? Is the water cold?
Lady Daria: Our washroom is the place where prisoner is washed and subjected to enemas. Prisoner must have harsh conditions and must be clean. Idea is simple. Taking care of hygiene and prisoner humiliation. We are stripping him from his intimacy. The same thing with enema. It is very degrading when you have to defecate in front of the commenting Ladies.
You asked me about water temperature. We prefer hot, but there are 2 exceptions: When we determine the conditions of the agreement via an e-mail; example: prisoner wants to be washed in cold water at least one time. Second when prisoner loses his rights to be showered with hot water. Few words about enema technics. For this purpose water has got body temperature and pressure is small. Very important. We never use cold water for this practice.
Lady Officers don't accept body worship
Lady Sas: On your website you write that is not possible to worship the bodies of the Officers. Does this mean that it is not possible to kiss and lick the shoes and to kiss the bottom of the Ladies?
Lady Daria: Yes. It is true. Neither me or my Ladies Officers don't accept body worship. We just don't like it. For us more important are respect, obedience, physical and mental submission. If prisoner likes leather – ok we can wear leather clothes, if prisoner likes latex – ok we can wear latex, if he likes gloves – we can wear gloves, but that's everything what we can offer. Prisoner can kiss our hands, sniff our whips or lick our shoes, but these are not his main duties and aim.
Lady Sas: When I look at your Crew I have the feeling that the Officers are all true sadists. Does it make sense for a fetishist with low pain level to apply?
Lady Daria: I am glad you think so. That means our photographer caught their real nature. Yes it is true. They are sadists. Inflict pain on someone gives them pleasure. We've got good team. We specialize in different areas, but we understand each other perfectly. I said this before: Warsaw Prison is for certain type of people. Fetishists will not be fit to this place. We will not do anything against our nature.
Lady Sas: What do you say to a slave who is fascinated by Warsaw Prison, but is afraid to come?
Lady Daria: We are all cautions when we have to change our environment, when we don't know what expect. I can see 3 reasons why people are so afraid of it:
1st one – Fear of the new place and people (strangers). In Warsaw Prison our guests will see exactly the same things and staff like on our website pictures. Any questions don't hesitate just write to me. Fetlife, via e-mail I will always answer. We are professional. Our guest must be happy and satisfied.
2nd reason – Fear of coming to Poland. On my website people can find some materials and guidance about my beautiful country. Where is based, which currency is used, type of weather. Poland is an European country with long history. BDSM is legal. English language is popular and common. It can be used almost everywhere. Visitors can pay via credit or debit cards. Warsaw is a capital city and this is business and cultural centre.
3rd reason – Fear of being imprisoned. If someone has no experience in being imprisoned I recommend 24h session for the beginning. Prisoner can check the place, environment, rules. He can also verify experience, fantasies and ideas about Warsaw Prison with reality. Do not be afraid. Just take a risk.
Lady Sas: You have three Officers, but only write about the fees for one or two of them. Why's that?
Lady Daria: I cooperate with three Ladies, but during one day session I have only max. 2 Ladies. Why? – This is due to my experience. As a Pro-Domme in the past I used to have Multi-Mistresses sessions and it was too crowded. Contact with slave was limited. With one Lady Officer we are able to create proper atmosphere.
Orgasm at Warsaw Prison?
Lady Sas: Is it possible for a prisoner to be allowed to have an orgasm in Warsaw Prison?
Lady Daria: Yes. It is such a kind of possibility, but prisoner must deserved for it. If he's not good enough, if he won't obey our rules chances for orgasm are small. Of course, the way to achieve orgasm does not always have to be necessarily associated only with pleasure. Sometimes it can be very humiliating. Prisoner can be pinned to the pillory and with a time limit must masturbate. We watch him and also we build pressure. Sometimes it is very difficult for them to come. Nice view.
Lady Sas: Are there any plans and ideas you want to add to the Prison?
Lady Daria: I would like to hit with the offer the largest group of people. Not only slaves, but also kinksters. I would like to build strong brand. Good advertising campaign – this is my aim for next couple of months. Internet, SM social network, maybe international trade fairs.
Of course I have plans for another new few things to the studio and I have new ideas, but at the moment it is a future. It would be also nice to buy my own house and land, but at the moment it is just a dream.
Lady Sas: Thank you for taking the time.
Read my first interview with Lady Daria.
There are not many BDSM studios around in Poland or even in Warsaw. So Domina Lady Daria is what you can call the BDSM-Queen of this area. She is not only a beautiful young Mitress, but also clever and intelligent. But most of all: She is a true Femdom who enjoys to transform men into slaves.
Domina Lady Sas: Dear Daria, what's your story? How did you come in contact with BDSM?
Domina Lady Daria: I think my story is not unusual. When I was 18, I met a guy who liked BDSM. That time I didn't have clue what it is. He showed me what to do, and how to do, educated me, but he was not strictly master, just a switch. He was into being defenseless and controlled, we played a lot of bondage and hard teasing, soft CBT. As I was inexperienced that time taking control was something new, but after the first unsuccessful attempts finally something worked. The first serious take a control of somebody – that was it – a huge psychological satisfaction, see, that someone is dependent on me, that I control his reactions and can decide about his satisfaction. Amazing feeling. And so it began.
Domina Lady Sas: You also speak German. What's the story behind that?
Domina Lady Daria: Story is quite trival. I was learning German during my education in high school and the university for almost 12 years. Unfortunately, I no longer have contact with language so I started to forget. At this point you can talk to me in German, and I will begin to answer in German and I will end in English. I would need to have regular contact with the language again to recall. At this point, this English has become my language to communicate with foreigners.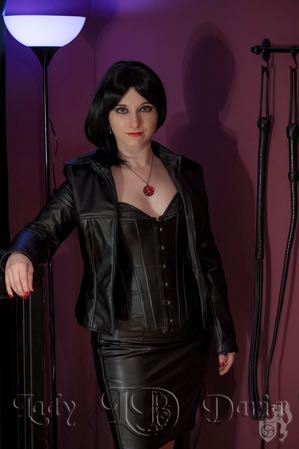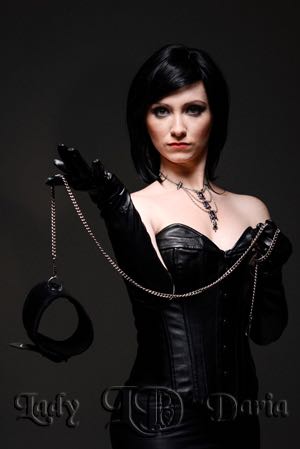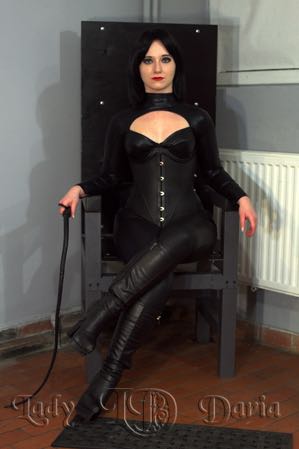 Domina Lady Daria from Warsaw
Domina Lady Sas: What can you tell us about the BDSM- and Femdom scene in Poland?
Domina Lady Daria: BDSM in Poland is still growing. We are proud that we have really great, very experienced people doing shibari and pierces piercing various body parts using not only needles but eg. wires. It seems to me that, like everywhere – our community is made up of "old hands" and young people who want to try something new. In Warsaw, we are fortunate that every month there are organized events for "kinksters", where meets approx. 130 people. Together, we talk, we drink, and we play – usually spanking, bondage, trampling.

And twice a year we organize big events (Kinky Party) with the dress code, playroom, shows. As I notice along years those event are getting better. People are more kinky dressed or sometimes undressed, there are more people wearing latex cat suits and what is most important – People take their gear and play using playroom furnitures. To those events comes approx. 200 people. It is nothing to compare this German Fetish Ball Torture Garden or Wasteland, but here Poles have a chance to get used to party in a kinky way before moving for something bigger. However, the organizers want to keep those event small to maintain healthy, discreet and safe atmosphere for more daring play. So I doubt it will ever go over a thousand or more of people.

When it comes to the scene FemDom in Poland, you can look at it two ways. If you ask about events that are typically FemDom on a national or local scale, well they aren't any made. Noncommercial Mistress from time to time organize mini parties with several slaves, but all those are private house hosted parties. But if you ask about ProDommes – there aren't many. Those with professional play space can be counted by the fingers of one hand, there is however a lot of "girls with the furry cuffs" who pretend to be dommes.
Domina Lady Sas: Where do your guests come from? Do you have many slaves from Germany?
Domina Lady Daria: Most of my guest are Poles. Studio is located in Warsaw – Polish capital city, but there is a lot of visitors from whole over the country. Some of them come here specially to visit me, some while during doing their business. Quite a lot of foreigners visit me both for short and long stays. Is hard to say particularly which country is visiting me most but I think people from UK. You asked about German slaves. It surprising that during those 2 year I had only two German slaves. I think German slaves don't like my classic CFNM style. I don't wear rubber at all. Besides I think there is so many decent Mistress in Germany that they really don't need to search abroad.
Domina Lady Sas: What makes your studio unique?
Domina Lady Daria: It is influenced by many factors. First, if you look at my studio would you say that was established two years ago from nothing? I started with a passion, a few toys collected over the years. But fortunately I had people who helped me – and that makes my studio unique. I work with decent people, decent kinky minds. I work with an engineer who arranged my garage to workshop so all the furnitures are made there. I have a webdeveloper who made decent booking system. I have male models, photographers, Mistress to work together, dressmaker. Can I ask for more? Of course I make the decisions, I create content on the page, I think about a photo shoot, I buy accessories, I plan studio development and of course I do the sessions – so a lot depends on me and how it will perform. But because I am doing it with passion and treat seriously, not as entertainment, this all looks and works very well. Plus some witch magic and this genuine joy while doing session which is for slaves most encouraging.

Why else it is unique? I have a fairly specific way of arranging the sessions. In Poland and probably in most of Europe, it operates on the principle of appointment on the phone. I am not a person who feels good as call center I asked my webdeveloper to make me an online booking system. How does it work? Slave makes an account in my booking system. He fills questionnaire which contains detailed questions regarding his BDSM preferences. After that he can check available dates, session fees and after making down payment via PayPal, he can make booking. For me it is extremely important that I can have view into slaves preferences before session and think about session plot before.
Domina Lady Sas: You offer long term stays where the slaves meet some private Mistresses. What are slaves looking for in such scenarios?
Domina Lady Daria: First of all, such long sessions are adventure of a lifetime. Most people that visit me are very experienced slaves, for whom the great fun is the feeling of Domina power, to spend a lot of time with her, to sleep in a cell and wake up and still be a prisoner. What's more – they don't know when they get up, when they eat, when they will play or what happens next – it's very exciting for them. They lose sense of time, they lose control, they are on my mercy. The second advantage – the time is not limited. We can fulfill many fantasies, with no hurry, with no need to worry that your session is an hour to an end. Most slaves approach is that this the very memorable experience, adventure "one for the life".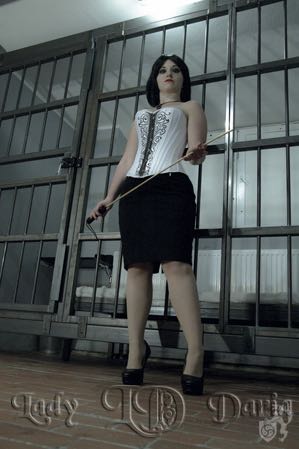 It is a great experience for Mistress participting.
Domina Lady Sas: In what point lies the pleasure for you to host sessions with multi Mitresses?
Domina Lady Daria: Sessions with other Mistress are very demanding. For me they are very intense as I control session, coordinate Mistress and plan next steps. You don't know how fast time goes by when there is so much going on. Basicly session works as double Mistress most of the time, but there are moments where there are two and Me. One is playing with slave nipples, one is teasing and Me as a head Mistress, I look into slave eyes . I see that he knows that I'm in charge, I'm the one who decides about his fate, his eyes are full with the admiration and respect for me. Many slaves told me that while having a session with soo many Mistress at once I was the guarantor of his safety. It's very uplifting and positive, that people feel awe, but at the same time they know that nothing 'bad' will happen while they are in in my hands.
Domina Lady Sas: What are the things in a session you personally enjoy the most?
Domina Lady Daria: The most exciting for me, like for every true sadist is corporal punishment. I really love whips and electrotorture. Recently, I discovered in myself entirely new areas that I like very much. It turns out that my rate of degradation giver is 100%. So I became a fan of balancing on the edge of breaking a prisoner. Most enjoyable for me to see how fights, roars, rages internally, but nothing he can do. I love to destroy the male ego, to prove slave that he is nothing. How do I do that? I don't let him achieve satisfaction – when he is sitting in solitary confinement and hears that I'm going, he starts to be happy, because he withstood all of his punishment, and then I tell him that I changed my mind and he will sit for another hour or I come early and take him out saying that I think it is too weak to bear it. The same goes imposed on his work to be done. If the slave is running, gets the job done, which is very difficult to do – when I check the results – if you do minimal error – begins anew. I guarantee you that these tortures are horrible. Yes – I really like mentally torment the slaves. Plus discipline – I'm very demanding. Slave positions, following command and drawing the consequences of the mistakes – I love it.
Domina Lady Sas: On your website there is this sentence: "Sensations associated with the orgasm in the air are unforgettable". Could you explain this a bit more, please.
Domina Lady Daria: Oh, orgasm in the air – I see that you carefully read my website. It is about suspension frame. I hang a slave in a horizontal position and tease him. For many slaves this feeling of suspension from the ceiling in the horizontal position is amazing. They realize that they are defenseless and helpless. Orgasm in such conditions, when you are hanging, suspension frame minimally swings, you cannot retreat and you are teased – it gives supposedly insane orgasm. But I can only say "supposedly" – because I have not tested it on myself 🙂 I based on slaves opinions.
The longest session was 96 hours.
Domina Lady Sas: There are also stays for more than one day possible. How often do slaves book such stays? And what was the longest stay in your studio?
Domina Lady Daria: I wouldn't say it is something that happens regularly weekly or monthly. Those kind of stays occur during year. But when if they occur – it is really challenge and adventure to run it. You need to get to know slave a bit – that why I use online questionnaire in my booking system. There is a lot scheduling and thinking about session in terms of story, roleplay, practices we will be doing.
Longest session was 96 hour – that included session time, breaks, meals and night rest. Anyway it was almost 10-12 h session time daily for 4 days. Of course slave was very mindful and experienced. I knew him quite well. Session time was filled with bondage, isolation, forced labor, interrogation and mind games focused on breaking slave's men ego.
Domina Lady Sas: Tell us about one session you will never forget.
Domina Lady Daria: I will never forget the session during which I first time have broke the slave. He cried out. It was something beautiful. Bring a man on the brink of collapse not through pain by mental oppression. And it took me less than an hour. It was a breakthrough for me, because since then perfectly realized what I'm into and what gives me the greatest pleasure.
Domina Lady Sas: What inspires you for Sessions? How do you come up with new ideas?
Domina Lady Daria: I think BDSM movies are my best inspiration – particularly Infernal Restraints and good old Insex movies. I like their 'dirty', rusty, rough approach – this is absolutely what I love. Ok, this is high end MaleDom, but believe me – many of their ideas can be taken to the FemDom. Gag made from lemon? Why not! Peel, put into a slave mouth, stick with tape and then just watch him drooling. I also get the inspiration from my friends, who have no less crazy ideas, like me. When you hang out among other sadists, a frequent topic of conversation are: "New ideas how to torture and inflict pain", "Is this is enough humiliating", "Forcing fear and terror in slave mind". We exchange experiences, combine, consider security issues. Such conversations are very inspiring. Besides, thankfully I am quite creative and a lot of ideas comes straight out of my head. I frequently get an idea and then I only think who will be brave enough to try it.
Lady Daria about her hobbies.
Domina Lady Sas: Do you have private hobbies?
Domina Lady Daria: Of course. BDSM is my passion, but not the only one thing in my life. I love to plan trips, holidays. Not only for myself, but for me friends and family. It gives me great satisfaction. The planning process itself makes me one foot in another country. At this point, however, because my studio is in the development stage, I can't go as frequently as I would like to do. However, once a year is an absolute minimum. Besides, I'm fascinated with Balkans and I began to be interested in Balkan cuisine, so also spend some time in the kitchen with a cookbook. I own three cats, so you can call me a cat lady. I love when they snap to me to bed and purr nicely. Of course, if before I give my cat friends, a good bowl.
Domina Lady Sas: What was your plan B, your alternative to become a Mistress?
Domina Lady Daria: Running studio takes most of my time and consumes a lot of energy. I am aware, however, that life writes different scenarios and I must be prepared for many eventualities. Therefore, in addition BDSM, I put on education. At this point I am in the process of doing a doctorate. I do research, interviews, take part in the conferences. I love it, and so I feel satisfied at every level. So univeristy scholar will be best alternative at the moment. Maybe someday I will write a book about all what I experienced. And maybe then another faculty, this time about sexology? I think I would be great sexual health educator.
Domina Lady Sas: Anything else you would like to say?
Domina Lady Daria: Yes. First of all, thank you for inviting me to an interview. That's very nice of you, and I feel honored. Please, remember also that Poland is not "far far away land", so I want to invite slaves to my sessions and all kinky people to best Polish BDSM event – Kinky Party.
Domina Lady Sas: Thank you very much for your time, Daria.