This article is about the new Warsaw Prison 2.0 by Lady Daria. Readers of my site already know Lady Daria as the strict and beautiful Mistress from Warsaw, who has gathered talented dominant Wardens around her to educate and train convicts and slaves properly. (Click here to read the two older interviews with the Mistress). Now Lady Daria is about to start a new major project: Warsaw Prisen 2.0. It's scheduled to open on Jan. 30, 2023. In this interview, she tells us what it's all about.
Lady Sas: Dear Daria, Warsaw Prison is moving to a new place. But this is not an ordinary "relocation". It is a new concept. Please explain it to us.
Lady Daria: Yes you are right. It is not just a change of location, but a complete change of concept. I wanted to open up to people and give them the opportunity to use Warsaw Prison. Now anyone who wants can visit the prison, have a session with their own Mistress or their own Master, you can shoot movies, organize photo sessions, or just have fun with your partner. There are many more possibilities than just a session with me.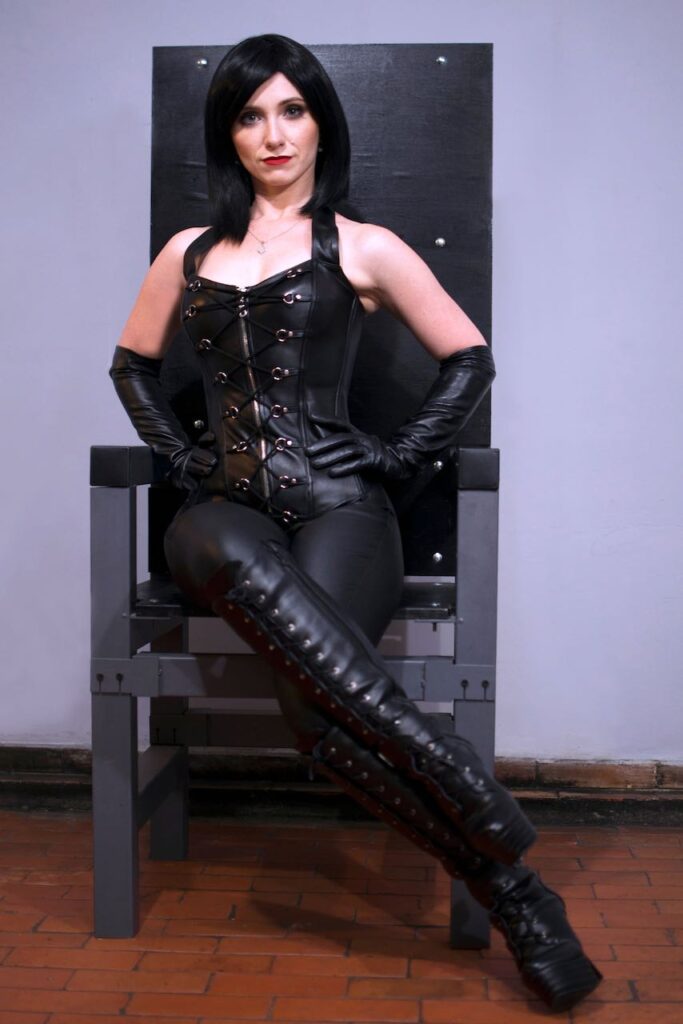 Warsaw Prison 2.0 by Lady Daria.
Lady Sas: What is your vision of Warsaw Prison 2.0 when it is finished?
Lady Daria: I want to keep the prison vibe but expand the possibilities. In the previous place, there could have been one, or two prisoners and it was already cramped. Now there can be many prisoners at once, many Ladies. The fact that we are bigger gives me not only a chance for me to develop, but also many people to realize their fantasies, e.g. about having fun in a larger group. I also want this place to be a kind of community hub where everyone with kinky interests can find something for themselves. The previous studio was located in my house, which in principle limited the scope of openness to others. With a separate building, my life and my privacy are separate from the prison, so you can visit us whenever you want, regardless of what my private calendar looks like
Lady Sas: Are there any role models with which you can compare the new studio Warsaw Prison 2.0?
Lady Daria: I think we can't avoid comparisons to OWK, but we're definitely smaller and we don't limit ourselves to FemDom. MaleDom sessions or video recordings are also accepted. We do not want to limit and close ourselves to one recipient. Everyone is welcome, in all configurations. When thinking about the project, planning, and creating a business plan, I didn't think about other places like this. Each of them has its own story and its own idea for action. I concentrated on my own imagination, my vision, and my intuition.
Lady Sas: What are the main advantages of Warsaw Prison 2.0 compared to Warsaw Prison 1.0?
Lady Daria: I think we only have advantages! More space for sessions, for swinging a whip, for filming, more prison cells, and the possibility of realizing fantasies that until now have not been possible due to lack of space. Warsaw Prison 1.0 was a place only for me, and the responsibility for it rested only on my shoulders. Now more people can use this place, thanks to which I can work a little less and find a work-life balance. It is a really good change!
"It won't be a one-man show anymore"
Lady Sas: What are your expectations for Warsaw Prison 2.0 when we talk about the quality of Guards, equipment, space and hygiene?
Lady Daria: First of all, it won't be a one-man show anymore. Previously, I did everything myself, from communicating with slaves, planning sessions, preparing meals, and cleaning up the studio. Now the responsibilities will be divided among several people. We already have a person employed who will be responsible for cleaning and keeping the facility and equipment clean, while maintaining the highest hygiene standards. The next step is the reservation system for this place, we want to continue using this solution. When it comes to the quality of the sessions, I firmly believe that those who will use the prison will be professional. The basic idea of WP 2.0 is to open up to new Mistresses. In Warsaw, and other polish cities, they are very good with many years of experience, fluent in English. Fortunately, Warsaw Prison offers accommodation for Mistresses, there are guest rooms, a kitchen, and a service that will cook dinner and breakfast, so there is no problem with accommodation.
Of course, my concept of running sessions was very geared towards long stays. New Mistresses will need to switch to long session mode. Each of them also has its own style and favorite practices. I think this new variety will bring a lot of innovation and new ideas to long prison stays. We do not limit ourselves to the Polish market only. One friend described us as a bed and breakfast for kinksters but themed in a prison style. Mistresses from abroad can also rent a room or a whole building. The price of the room includes a cell for one prisoner. For my part, both I and the team are able to train in the use of the equipment and offer advice on planning multi-day stays. When it comes to equipment, for now, the focus is on the finalize the second wing of the building. We will gradually equip them with additional gear and furniture. We want a dirty cell, similar to the isolation room in the previous place. We want to finally have a place for waterboarding and dunking. Those are the key elements. More ideas will certainly appear over time and when we get used to this place ourselves.
Lady Sas: What is the current status and when is the project expected to be completed?
Lady Daria: The building site taught us one thing – don't specify a date, because you'll never hit the right date. Most often, when it seems that we are already close, something unpredictable happens, a power failure, equipment damage, and there is a delay. At the moment, we are in the final stages of finishing the rooms on the first floor in the first wing. When we finish it, we quickly move on to the second wing, where there is less work, because the rooms there are easier to finish. But we never know what surprise we're going to get. Now it will be harder, because we do not focus only on construction, but also on marketing, renting, and organizing the operation of the place, sessions, and films, so our attention will have to be divided. However, I keep my fingers crossed and believe that in the spring we will meet the fully completed Warsaw Prison 2.0.
Lady Sas: What are you most looking forward to?
Lady Daria: At this time? For less dust, which was much here during the renovation and is still somewhere too much. But seriously – I want to really finish the facility 100% and show others that yes – we did it. Thanks to the help and support of many people, we are where we are today. I want to record a video, show the whole prison, all the possibilities, amenities, furniture, and get the first positive feedback from people who use this place that this is what they've been waiting for. This is my dream.
Lady Sas: Thank you very much.