Visiting the OWK, the Other World Kingdom, used to be one of the greatest highlights you could experience as a Mistress or as a slave. The "state" where dominant Women ruled over submissive men was founded in 1996 in the Czech Republic. It was a large area where dreams and phantasies of roleplay came true. If you are into BDSM for some time like me you will remember the impressive videos with beautiful Mistresses like OKW Madame Loreen, Madame Sarka, Madame Nicole, Madame Christine, Madame Clara and of course Madame Gabrielle.
There were great events at the Other World Kingdom and many Mistresses and slaves from around the world met at OWK to get to know each other, to play and to have a great time. If you talk to younger Mistresses today some of them believe that the Other World Kingdom never existed for real. But that's not true, the OWK was very real. Unfortunately it had to close it's doors.
The reason why? I'm glad that Madame Gabrielle will answer this question in this interview on my Femdom Blog. It's a great pleasure to have her here. Madame Gabrielle had a leading and responsible position in the OKW from the very beginning. In the interview she will tell us also about the new project by Queen Patricia I: Womania Empire. I don't know where the story of Womania Empire will lead to. But I'm sure it will be very exciting.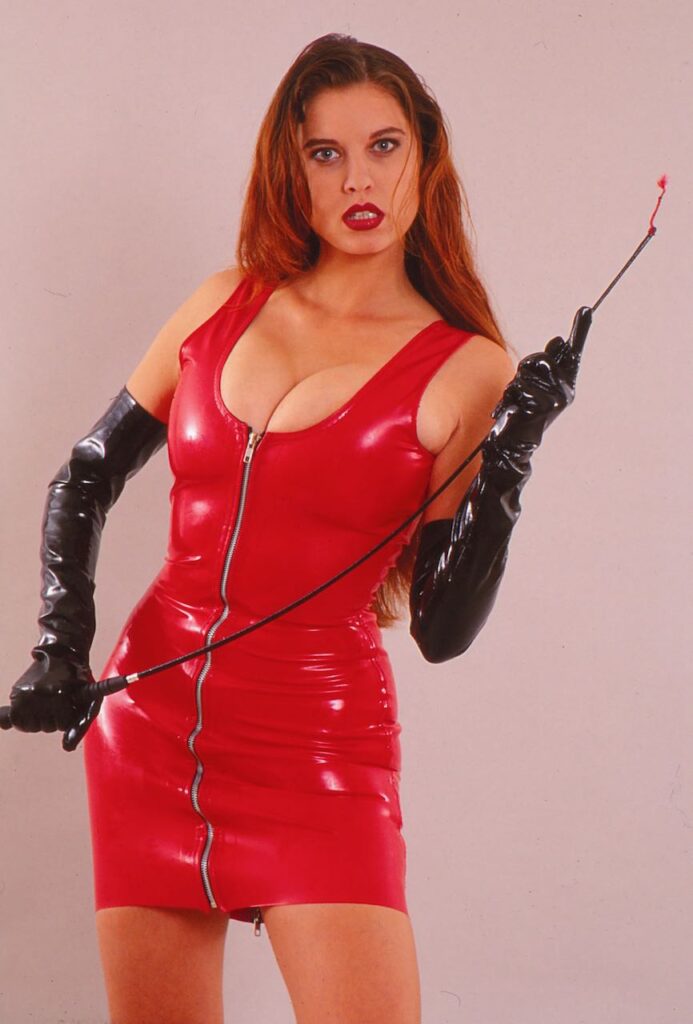 FIRST HOFFMISTRESS OF THE QUEEN´S PALACE AND HEADMISTRESS OF THE EMPRESS' OFFICE OF WOMAN EMPIRE
Madame Gabrielle von Malendorf from the OWK / Woman Empire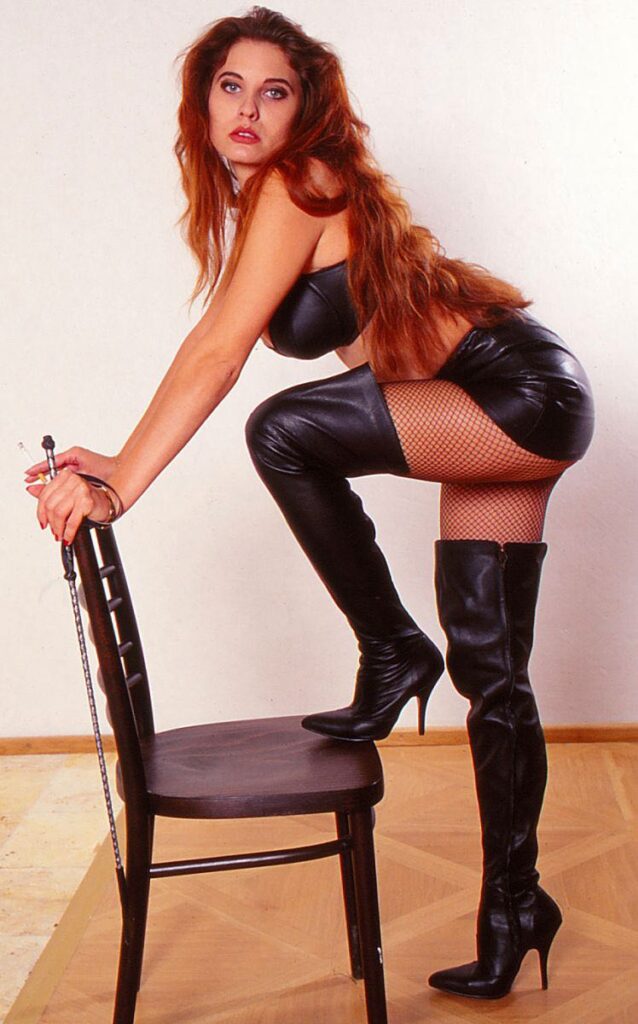 Womania Empire: The next big OWK thing
Lady Sas: Dear Madame Gabrielle, please tell us about your role in the context of OWK and the new project called "Womania Empire".
Madame Gabrielle: I'm helping the OWK with administration of emails, and the same I do for Womania Empire as Headmistress of Empress´ Office. I also take care of the Twitter and Fetlife accounts. As for Womania Empire I´m authorized Court Lady-Officer, too, so I´m entitled to decide in the cases of self-indictments. I´m working on my computer at home. I don't personally participate any more during filming or photo-shooting at the OWK.
Lady Sas: Before we talk about Womania Empire, I'd like to look back and talk about the Other World Kingdom (OWK). The OWK was founded in 1996 in the Czech Republic as a large BDSM and Femdom facility. It was offered for sale in 2008 and has been closed – except for filming and short events. Why?
Madame Gabrielle: It was a private decision of the Queen Patricia I., and I think that decision was made mainly because of economic reasons. There simply weren't enough slaves and visitors to cover all the costs for the staff, Guardesses and other fees (electricity, water etc.). And, some parts of the buildings needed reconstruction after 20 years, to be legally approved again for accommodation, cooking etc. (new standards from local government). And because the Castle area is very big, there's not enough money for its maintenance. Now, thanks to donors, we are able to repair the Castle Tower (www.owk.cz/savetower) – but yet there are still so many other things that need reconstruction and re-building.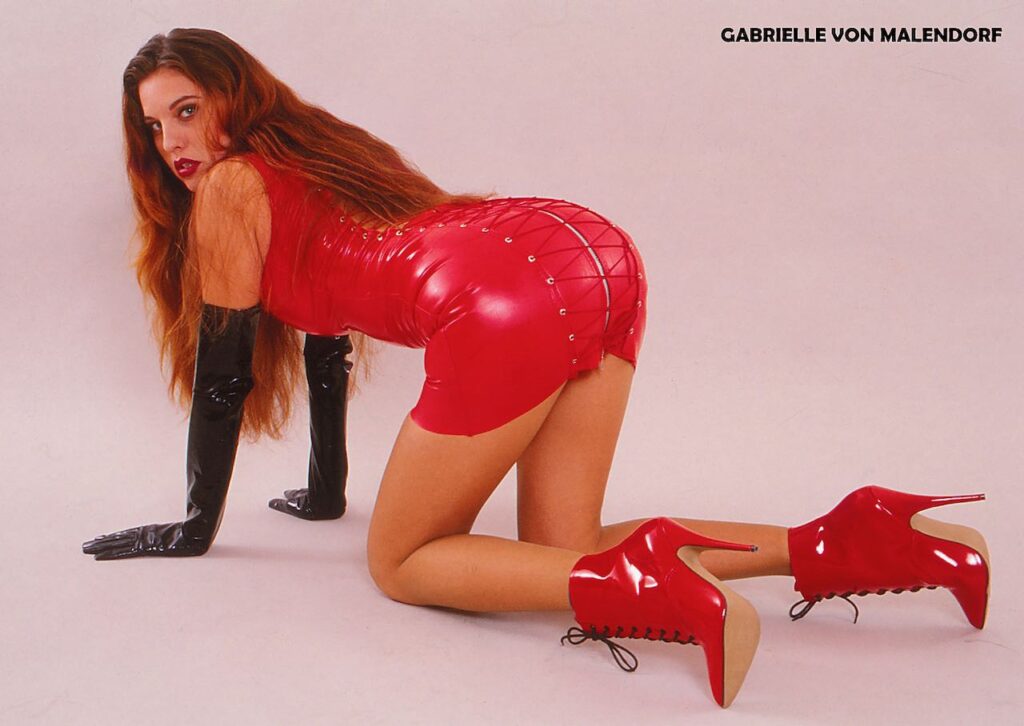 Interview with Madame Gabrielle
Lady Sas: Has the OWK been sold? Who owns it now?
Madame Gabrielle: It has never been sold, OWK Castle is still owned by the Other World Kingdom, ruled by Patricia I. I know that there were many rumors, especially on internet, about OWK being sold, but none of these rumors was true. If the Queen will anytime in future sell the Castle for any reason, it will not be done secretly.
Lady Sas: Please tell us about the status-quo of the OWK in 2017.
Madame Gabrielle: We are repairing the Castle Tower (new roof and plaster), and We are preparing the repair of the walls around the Area, the complete repair of windows in the Castle, the changing of destroyed water pipes in the Castle and the Long House. This year we will build a new public pillory too, and maybe clean the lake in the Park. The Castle Area is also used for filming, for the Spanking Day, and for short time imprisonment – next date is October 12 – 15, 2017.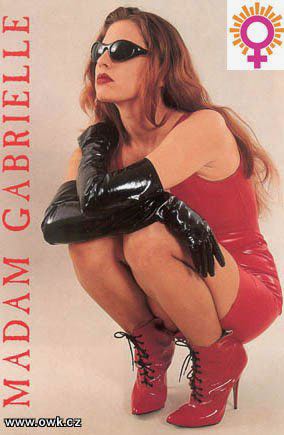 "Some of the Ladies were models, yes"
Lady Sas: You know the story of the OWK from the very beginning. How did the OWK approach the State Mistresses? Were they models?
Madame Gabrielle: Some of the Ladies were models, yes, some were not but joined OWK thanks to recommendation from other Guardesses, or they did send an application for Guardess position directly to the Queen, because they knew OWK from books and magazines and wanted to participate to the activities of the OWK.
Lady Sas: Are you and Queen Patricia the only State-Mistresses from the OWK who are still involved in the Femdom projects, like Womania Empire?
Madame Gabrielle: I don't know what you mean by "State-Mistress". There were about 30 Guardesses (over the years) and approximately 80 OWK Citizens from all around the world. I really do not know who's still active or not. From the first Guardesses I know only about Madame Sarka that She's maybe still active and still produces and sells clips. Amongst the OWK Citizens many Ladies are still active on the scene (Mistress Simone Justice – USA, Mistress Nicolette – USA, Mistress Johanna – Spain, Lady Monique de Nemours – Spain, and many others…). They are involved in the Womania Empire project, too.
Lady Sas: Please tell us about the new project, Womania Empire. What is it all about?
Madame Gabrielle: All basic info can be found on www.womaniaempire.com. Very simply said, Womania Empire is the project of a private state in virtual and real world, based on the principles of Ultra-Matriarchy. An Empire where Women rule, with an Empress, Noblewomen, Citizens, Members, state slaves and private slaves. Everybody who believes that Women are supreme can join the Womania Empire. It is a long-time project for years, we are just starting slowly now.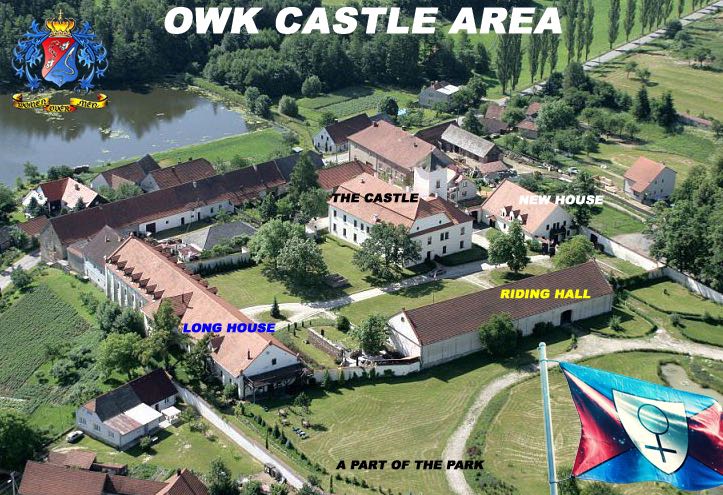 "It is a long-term project for years"
Lady Sas: Who is running Womania Empire?
Madame Gabrielle: Empress Patricia I. (Foundress and Queen of the OWK).
Lady Sas: You told me that the OWK Castle is temporary seat of Empress Patricia, until Womania has its own Castle. How concrete are the plans for the Womania Castle? When will it open? And what will happen there?
Madame Gabrielle: Actually, within the next few days, the Empress will create the Womania Castle Fund. Money from this Fund will be used for the purchase of another Castle (or castle-like buildings). In Womania Castle Area there will be the possibility to live there on a long-term basis as a Citizen or a slave under the Womania Empire jurisdiction and the rules and principles of Ultra-Matriarchy. Nobody knows the date of opening yet – it's all about collecting enough money first.
Lady Sas: Please tell us the difference between OWK and Womania Empire.
Madame Gabrielle: The OWK, although there were some Laws and Citizens, after years of existence, ended mainly as a big and a bit unusual SM studio. Womania Empire now starts with the initial ideas of the OWK again, but not only for BDSM activities – it's about Female Supremacy in all aspects of life. Womania Empire will build a real ultra-matriarchal society, not only an institution for training of slaves. Nowadays, thanks to internet and online social media, we can get in touch with a lot of like-minded people, and creating such community is much easier than it was 20 years ago for the OWK.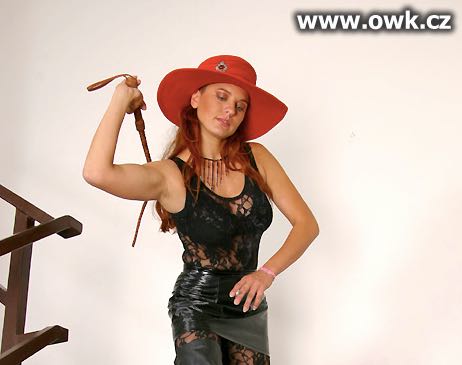 "I hope that our website will be developing into the final version with its own social network."
Lady Sas: Are there things you have learned from the OWK project? Which mistakes come to your mind that will be handled in a different way by the Womania Empire Team?
Madame Gabrielle: Yes, we will change some things and make it in different ways. But, I´m sorry, I will not write more about this, because we do not want to give advice to our possible competitors. The same is valid for details about the future activities of Womania Empire. Because one of the things we have learned from the OWK project is that if you do tell something in advance, many persons will try do it by themselves, too, and many others will start with rumors and defamations against us, because some are competitors and others hate us for various reasons. There are many persons who don´t like our basic principles of Ultra-Matriarchy and Female Supremacy.
Lady Sas: Where do you see Womania Empire in the next 12 months?
Madame Gabrielle: I hope that our website will be developing into the final version with its own social network. That the website will have a lot of registered users, Womania Citizens, state slaves and Ladies with imperial functions. That Womania Castle Fund will contain some money and that we will be able to start the organizing of the first events and meetings (maybe still in the OWK Castle) and make real plans about the future seat of Womania Empire.

Lady Sas: Thank you very much for your time.